Stacking the shelves is a weekly meme hosted by

Tynga's Reviews

, and it's all about sharing the books that have come into your possession throughout the week, whether it books added to your collection, ebooks, library books, etc. Sunday post

is a weekly meme hosted by Caffeinated Book Reviewer where bloggers can recap their week, showcase books, and share news.
The Stack
THE GOLDFINCH: DUDES & DUDETTES: I went to my first independent bookstore! It was 100% amazing (I took some pictures while I was there and I am going to be doing a post on it next week.) and I will definitely go back. I have heard pretty incredible things about this book, and I practically bought it on the sole recommendation of Max @ WellDoneBooks on YouTube.
THE SCORPION RULES: It was only $1.99 on kindle one day this week, and this book has intrigued me since everyone hauled it at BEA. I've heard mixed reviews, but I want to read it for myself.
What I Read This Week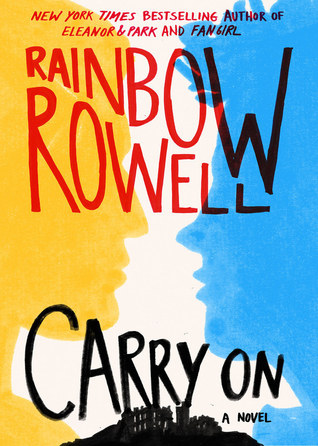 100/100 - I will have a "review" up this week listing 12 of the things I loved about this book. Also why you should pick it up and love it with me. Also,
Shannon @ Leaning Lights and her bookclub
are reading it starting Monday (11/9) if you want to read it along with them! (And if you can't get to it this next week, Sasha and Regan are reading it throughout the entire month with
their bookclub
.)
When I Wasn't Reading
I started The Mindy Project (currently on season 2: highly recommend), and Danny is fantastic. It's not as good as Parks and Rec, but it's still pretty good. Also, I have been doing a lot of blog planning?I know, you're as confused as I am.
You Might Have Missed
Upcoming
12 Reasons to Pick up Rainbow Rowell's Carry On | Review
Most Recent Books I've DNF'd | T5W + Discussion
Independent Bookstore Exploration
Have you read Carry On yet? Are you planing on it? Also, have you read either The Goldfinch or The Scorpion Rules? Tell me you thoughts in the comments!