"Waiting on Wednesday is a weekly meme, hosted by

Jill @ Breaking the Spine

, that spotlights upcoming releases that I am eagerly anticipating. I, however, do it monthly.
I have been seeing Waiting on Wednesdays for as long as I have been blogging, but every week just seemed like too much, so I decided to post a monthly version with a handful of books on the first Wednesday of every month!
Expected Publication: 10 November 2015 by Atria Books
Beloved #1 New York Times bestselling author Colleen Hoover returns with an unforgettable love story between a writer and his unexpected muse.

Fallon meets Ben, an aspiring novelist, the day before her scheduled cross-country move. Their untimely attraction leads them to spend Fallon's last day in L.A. together, and her eventful life becomes the creative inspiration Ben has always sought for his novel. Over time and amidst the various relationships and tribulations of their own separate lives, they continue to meet on the same date every year. Until one day Fallon becomes unsure if Ben has been telling her the truth or fabricating a perfect reality for the sake of the ultimate plot twist.
Novelists and romance and an author I need a starting place for? This sounds wonderful. Also, it really bothers me that this is called
November 9
but being released on November 10. It better have something to do with the plot and have a reason.
Once Again
by Liz Braswell and Cameron Dookey
Expected Publication: 17 November 2015 by Simon Pulse
Two beloved and timeless tales—Snow White and Sleeping Beauty—find new life in these magical and imaginative retellings filled with romance and adventure.

Snow

After the tragic death of her mother, Jessica's father finds love again. But as Jessica grows into a beautiful young woman, it becomes clear that her stepmother is wildly—and murderously—jealous of her.

With no choice, Jessica escapes to London and finds herself surrounded by an odd band of outcasts who accept her into their makeshift family. And when her stepmother—repentant and supposedly seeking forgiveness—appears in the city, Jessica must decide whom to trust.

Beauty Sleep

Cursed at birth, Princess Aurore is fated to prick her finger at age sixteen and sleep for one hundred years. As the days go by, the adventurous princess makes a habit of exploring the lands beyond the castle, where her warmth and generosity earn her the devotion of the townspeople.

But when she finds out the impending curse will not only harm her—but the entire kingdom—Aurore embarks on a dangerous quest to end the evil magic. Will she be able to put a stop to the curse before it's too late?
I am so intrigued by this for the following reasons: 1) it's a fairytale retelling and 2) it reminds me of Once Upon A Time because it seems like it mixes the fantastical, fairytale world with the modern world. Yes, yes, yes.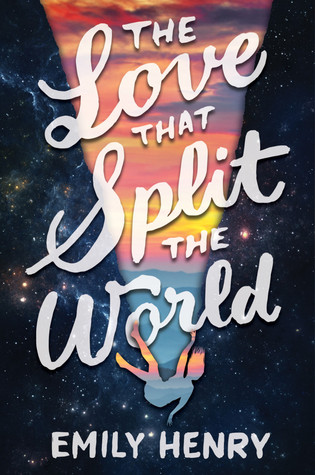 The Love That Split the World
by Emily Henry
Expected Publication: 26 January 2016
Natalie Cleary must risk her future and leap blindly into a vast unknown for the chance to build a new world with the boy she loves.

Natalie's last summer in her small Kentucky hometown is off to a magical start... until she starts seeing the "wrong things." They're just momentary glimpses at first—her front door is red instead of its usual green, there's a pre-school where the garden store should be. But then her whole town disappears for hours, fading away into rolling hills and grazing buffalo, and Nat knows something isn't right.

That's when she gets a visit from the kind but mysterious apparition she calls "Grandmother," who tells her: "You have three months to save him." The next night, under the stadium lights of the high school football field, she meets a beautiful boy named Beau, and it's as if time just stops and nothing exists. Nothing, except Natalie and Beau.

Emily Henry's stunning debut novel is Friday Night Lights meets The Time Traveler's Wife, and perfectly captures those bittersweet months after high school, when we dream not only of the future, but of all the roads and paths we've left untaken.
I haven't read the synopsis. I love the cover, and I think it has something to do with time travel. That's enough for me.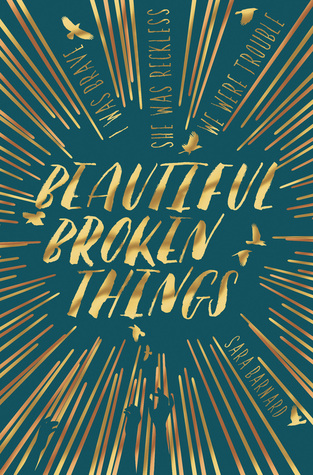 Expected Publication: 11 February 2016
I was brave
She was reckless
We were trouble

Best friends Caddy and Rosie are inseparable. Their differences have brought them closer, but as she turns sixteen Caddy begins to wish she could be a bit more like Rosie – confident, funny and interesting. Then Suzanne comes into their lives: beautiful, damaged, exciting and mysterious, and things get a whole lot more complicated. As Suzanne's past is revealed and her present begins to unravel, Caddy begins to see how much fun a little trouble can be. But the course of both friendship and recovery is rougher than either girl realises, and Caddy is about to learn that downward spirals have a momentum of their own.
I don't need a lot to get me intrigued by a book. Give me a pretty cover, a nice vague catchphrase, and an idea of friendships. I'm easy to please, I'm not picky . . . until I actually read it.
Have you heard of any of these books/read any of them? Tell me down in the comments!