Okay. Let me briefly say why I had a problem with
Throne of Glass.
The writing and story-line was very fanfiction-y. I knew the exact story line as it was happening because I had read it a thousand times. I knew Celeana as the all-perfect female lead that reflects the author's own desires about herself. The writing style wasn't anything special, and I had frankly read better fanfiction.
The first thing I noticed about
A Court of Thorns and Roses
was that Maas's writing style had much improved.
Check.
The second thing I noticed about the book was that Feyre wasn't all-perfect.
Check.
I was really, really glad about this. So glad, in fact, that I gave it five stars upon finishing it.
And then . . . I took a second.
If you noticed, I only mentioned two of the three (main) things that I didn't like about
Throne of Glass.
Albeit, this
is
a retelling of Beauty and the Beast, but the Beauty and the Beast plotline wasn't what bothered me. It was a mix of the first two combined . . . kind of (mixed with a few popular series).
Feyre wasn't near annoying as Celeana (in her perfect, perfect-ness). However, she was annoying in her own way. In a Bella Swan way . . . wait . . . a . . . minute.
There are
a lot
of weird Breaking Dawn things happening in this book. And in Bella Swan fashion, Feyre doesn't understand. I would
love
to talk to you about it, but I can't do it here in a non-spoilery setting.
Okay, let's move on.
All of the male characters are
super
fleshed out, which was amazing and unexpected and really, really welcome. Like I love all of them (and I love some of them more than others).
This isn't a straight-up Beauty and the Beast retelling. There are cool twists and turns and Sarah wonderfully weaves the original story while making it
very much her own
with the awesome twist of the Faeries (which I know nothing about FYI).
Feyre has her flaws and it's wonderful. While she is a sort of mash up of Bella Swan and Katniss Everdeen, she is her own character.
I love Lucien. I love Alis. They are amazing, but as the friendships of our main character . . . they were really weak. There are no real female (or any) friendships in this book, so that's what I am hoping for in the sequel.
Let's talk villains.
This will be vague because it doesn't come up until a little later in the book, but I adore our villain in this story. Like pretty much all of our other characters, our villain is
incredibly
well fleshed out. Like, she's a wonderful, wonderful villain.
And I will leave you with this: #RysandIsEndgame (And I know it's supposed to be Reece-and, but it will forever be Rye-sand in my mind.) I can see myself, however, being swayed towards Tamlin.
Content: PG-13 to R
Language: Not Really
Violence: Definitely There
Sex: Not explicit, but there
YES. YES. YES.
I am eagerly anticipating the sequel.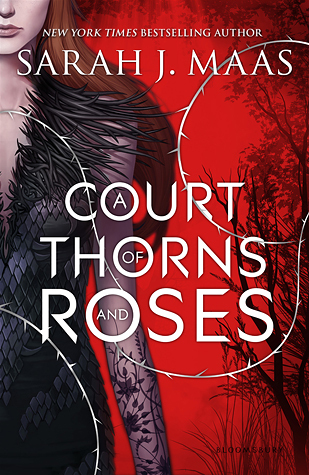 A Court of Thorns and Roses
by Sarah J. Maas
Published:
Format - Pages: Hardback - 416
Source: Library
Genres: Young Adult, New Adult, Fantasy, Fairytale Retelling
Goodreads
-
My Goodreads Rating
Buy it! -
Amazon
,
Kindle
,
Barnes & Noble
A thrilling, seductive new series from New York Timesbestselling author Sarah J. Maas, blending Beauty and the Beast with faerie lore.

When nineteen-year-old huntress Feyre kills a wolf in the woods, a beast-like creature arrives to demand retribution for it. Dragged to a treacherous magical land she only knows about from legends, Feyre discovers that her captor is not an animal, but Tamlin—one of the lethal, immortal faeries who once ruled their world.

As she dwells on his estate, her feelings for Tamlin transform from icy hostility into a fiery passion that burns through every lie and warning she's been told about the beautiful, dangerous world of the Fae. But an ancient, wicked shadow grows over the faerie lands, and Feyre must find a way to stop it . . . or doom Tamlin—and his world—forever.

Perfect for fans of Kristin Cashore and George R. R. Martin, this first book in a sexy and action-packed new series is impossible to put down!
Have you read ACOTAR? What did you think? Who was your favorite/least favorite character? Tell me down below!