"Waiting on Wednesday is a weekly meme, hosted by

Jill @ Breaking the Spine

, that spotlights upcoming releases that I am eagerly anticipating. I, however, do it monthly.
I have been seeing Waiting on Wednesdays for as long as I have been blogging, but every week just seemed like too much, so I decided to post a monthly version with a handful of books on the first Wednesday of every month!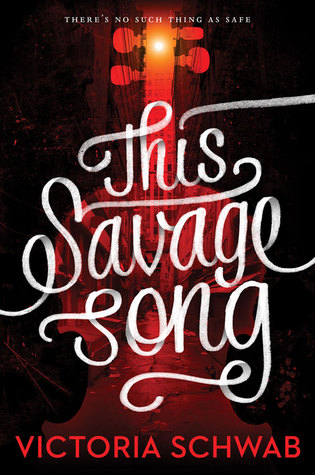 This Savage Song
by Victoria Schwab
Expected Publication: 7 June 2016 by GreenWillow Books
The city of Verity has been overrun with monsters, born from the worst of human evil. In North Verity, the Corsai and the Malchai run free. Under the rule of Callum Harker, the monsters kill any human who has not paid for protection. In the South, Henry Flynn hunts the monsters who cross the border into his territory, aided by the most dangerous and darkest monsters of them all—the Sunai, dark creatures who use music to steal their victim's souls.

As one of only three Sunai in existence, August Flynn has always wanted to play a bigger role in the war between the north and the south. When the chance arises to keep an eye on Kate Harker, daughter of the leader of North Verity, August jumps on it. When Kate discovers August's secret, the pair find themselves running for their lives and battling monsters from both sides of the wall. As the city dissolves into chaos, it's up to them to foster a peace between monsters and humans.

A unique, fast-paced adventure that looks at the monsters we face every day—including the monster within.
It has a cover, and it's beautiful, and it's Victoria Schwab, and I love her, and it's "Sin City + Romeo and Juliet - romance + monsters. This is the strangest book I've ever written. I love it." - Victoria Schwab
Guys. I'm so excited.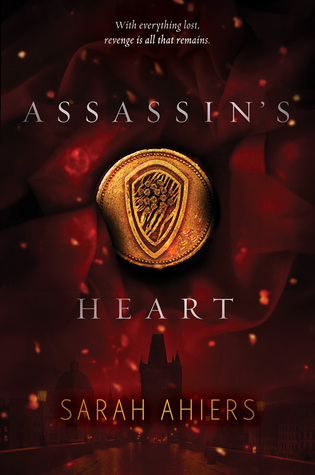 Assassin's Heart
by Sarah Ahiers
Expected Publication: 2 Feb 2016 by HarperTeen
In the kingdom of Lovero, nine rival Families of assassins lawfully kill people for a price. As a highly skilled member of one of these powerful clans, seventeen-year-old Lea Saldana has always trusted in the strength of her Family. Until she awakens to find them murdered and her home in flames. The Da Vias, the Saldanas' biggest enemy, must be responsible—and Lea should have seen it coming. But her secret relationship with the Da Vias' son, Val, has clouded her otherwise killer instinct—and given the Da Vias more reason than ever to take her Family down.

Racked with guilt and shattered over Val's probable betrayal, Lea sets out to even the score, with her heart set on retaliation and only one thought clear in her mind: make the Da Vias pay.

With shades of The Godfather and Romeo and Juliet, this richly imagined fantasy from debut author Sarah Ahiers is a story of love, lies, and the ultimate vengeance.
If you're old, you know that I wasn't the biggest Throne of Glass fan, but it was mostly the writing style. I am so excited for this because it's a debut author, and it comes out really soon!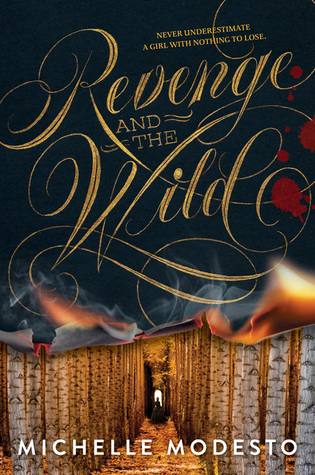 Revenge and the Wild
by Michelle Modesto
Expected Publication: 2 Feb 2016 by Balzer + Bray
The two-bit town of Rogue City is a lawless place, full of dark magic and saloon brawls, monsters and six-shooters. But it's perfect for seventeen-year-old Westie, the notorious adopted daughter of local inventor Nigel Butler.

Westie was only a child when she lost her arm and her family to cannibals on the wagon trail. Nine years later, Westie may seem fearsome with her foul-mouthed tough exterior and the powerful mechanical arm built for her by Nigel, but the memory of her past still haunts her. She's determined to make the killers pay for their crimes—and there's nothing to stop her except her own reckless ways.

But Westie's search ceases when a wealthy family comes to town looking to invest in Nigel's latest invention, a machine that can harvest magic from gold—which Rogue City desperately needs as the magic wards that surround the city start to fail. There's only one problem: the investors look exactly like the family who murdered Westie's kin. With the help of Nigel's handsome but scarred young assistant, Alistair, Westie sets out to prove their guilt. But if she's not careful, her desire for revenge could cost her the family she has now.

This thrilling novel is a remarkable tale of danger and discovery, from debut author Michelle Modesto.
1) Debut author
2) Magic + Monsters
3) I think it's a western.
Need I say more?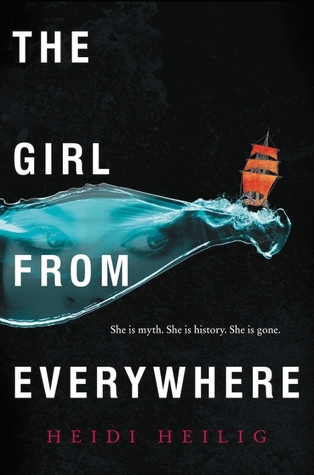 The Girl from Everywhere
by Heidi Heilig
Expected Publication: 16 Feb 2016
Heidi Heilig's debut teen fantasy sweeps from modern-day New York City to nineteenth-century Hawaii to places of myth and legend. Sixteen-year-old Nix has sailed across the globe and through centuries aboard her time-traveling father's ship. But when he gambles with her very existence, it all may be about to end. The Girl from Everywhere, the first of two books, will dazzle readers of Sabaa Tahir, Rae Carson, and Rachel Hartman.

Nix's life began in Honolulu in 1868. Since then she has traveled to mythic Scandinavia, a land from the tales of One Thousand and One Nights, modern-day New York City, and many more places both real and imagined. As long as he has a map, Nix's father can sail his ship, The Temptation, to any place, any time. But now he's uncovered the one map he's always sought—1868 Honolulu, before Nix's mother died in childbirth. Nix's life—her entire existence—is at stake. No one knows what will happen if her father changes the past. It could erase Nix's future, her dreams, her adventures . . . her connection with the charming Persian thief, Kash, who's been part of their crew for two years. If Nix helps her father reunite with the love of his life, it will cost her her own.

In The Girl from Everywhere, Heidi Heilig blends fantasy, history, and a modern sensibility with witty, fast-paced dialogue, breathless adventure, and enchanting romance.
GUYS, THIS IS MY MOST ANTICIPATED 2016 RELEASE. I'm so excited because 1) TIME TRAVEL, 2) it's a duology, 3) part of the book takes place in Hawaii. Dudes, I'm so hype.
That's what I'm waiting on this month. (Can't believe I have to wait until June to read This Savage Song.) Have you heard of any of these? Tell me down in the comments!