I'm like the last person in the entire book community to do so, but I finally read
City of Bones
.
And I really enjoyed it.
I was so hesitant to ever even pick this book up (I literally wrote an entire post about it.), and I know that if I hadn't already read
Clockwork Angel
and
Clockwork Prince
before reading this one, I would have hated it. By some miracle I have stayed away from spoilers regarding this series (save the one always mentioned) from this series, and I am finding it difficult to curb my desires of searching tumblr for all the spoilers. Cassandra Clare has created a truly addictive that I don't want to put down.
Going into this book, I was worried that this would be exactly like
Clockwork Angel
. I was expecting the same story and the same characters with different names, but that's not what I got. While there are some definite similarities (I'm sensing a love triangle) between the two, this was completely different.
I am definitely not the biggest fan of Clary, but literally
she's only fifteen
so I'm trying to cut her some slack in my mind. (If I went through what she has gone through at the age of fifteen, I would have had many a mental breakdown.)
And Isabelle. Guys,
Isabelle
. Woman Crush Wednesday for sure. I was high key worried she was going to be like Jessie and hate everything Shadowhunter, but she might be my favorite character. Jase is snarky and we see so much more of him in this book than we did of Will in the first ID. I love his personality so much, and I kind of love him. Luke is also A+ but I definitely want more of him, Simon, and Alec in the later books because they have so much going for them.
Also we got to see Magnus! I was about halfway through the story, and I was wondering where he was and if he showed up at all in this book, but
he did
! (And as much as I ship Will/Magnus . . . I won't say it but guys.
Magnus.
)
This story was a little info-dumpy at times, but it is the first book in a six book YA urban fantasy series written in 2008. I wasn't expecting anything different, so that didn't really bother me. Also, info-dump sessions don't really bother me unless they are really obvious (which I didn't think this was) because I just get really excited and into books and their worlds. But the story never stopped moving forward and I had a blast and a half reading it.
Now, if you will excuse me, I have the next two books waiting for me at the library, so I'm going to skedaddle.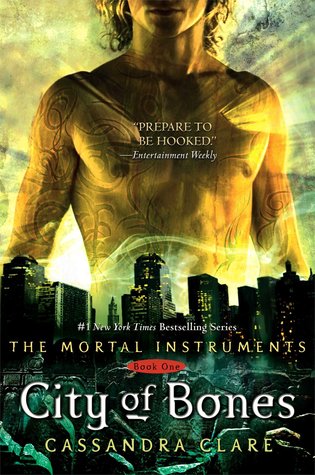 City of Bones
by Cassandra Clare (The Mortal Instruments #1)
Published: 27 March 2007 by Margaret K. McElderry Books
Format: eBook
Source: Overdrive via my library
Genre: Young Adult, Urban Fantasy
Goodreads
-
My Goodreads Rating
Buy it! -
Amazon
,
Kindle
,
Barnes and Noble
When fifteen-year-old Clary Fray heads out to the Pandemonium Club in New York City, she hardly expects to witness a murder― much less a murder committed by three teenagers covered with strange tattoos and brandishing bizarre weapons. Then the body disappears into thin air. It's hard to call the police when the murderers are invisible to everyone else and when there is nothing―not even a smear of blood―to show that a boy has died. Or was he a boy?

This is Clary's first meeting with the Shadowhunters, warriors dedicated to ridding the earth of demons. It's also her first encounter with Jace, a Shadowhunter who looks a little like an angel and acts a lot like a jerk. Within twenty-four hours Clary is pulled into Jace's world with a vengeance, when her mother disappears and Clary herself is attacked by a demon. But why would demons be interested in ordinary mundanes like Clary and her mother? And how did Clary suddenly get the Sight? The Shadowhunters would like to know...

Exotic and gritty, exhilarating and utterly gripping, Cassandra Clare's ferociously entertaining fantasy takes readers on a wild ride that they will never want to end.
Have you read City of Bones? (I'm sure that you have. Everyone and their mother in the book community has.) Do I have to finish Clockwork Princess before I read the last TMI book?
PLEASE KEEP THE COMMENTS SPOILER FREE FOR ALL THE NUBES LIKE ME THAT HAVEN'T READ THIS BOOK/SERIES.