I will start off this review saying that this book took me a while to read.
I will also say that this is one of my favorite books of 2015 as well as possibly one of my favorites of all time.
Ever since a tragic forced reading of Hatchet in fifth grade, I have hated survival stories. It's a general rule for me to just not bother watching or reading any story that is just a "survival story" because it's boring and a lot of the time, I find the main character ignorant and stupid, as they often go off into the wilderness to die by themselves . . . because they wanted to. I have just never understood it.
And that's where I would love to remarket this book not as a "survival story" but as a story where humanity goes out of their way to go and find and save one of their own.
This book has one of my absolute passages and basically sums up why I ended up in love with this book. Read it:
Doesn't that just make you love humanity? That's what The Martian did to me: it made me believe in the human race again.
I will say that this book was a little slow going for me at the beginning because it's just one dude on one Mars with a wit big enough for the entire planet. However, there are eventually other perspectives thrown it. As much as I love Mark Watney and his humor, this was a giant relief to me because it was the reason that I trudged through this book for the longest time.
Honestly, I could read about 200 more pages about the rest of the Ares 3 crew and love every second of it. Their presence in this novel was what really bumped this up there for me.
I also loved the "LOG ENTRY: SOL X" format because I am horrible at trying to decipher dates in books. Time stamps in books are my favorite because I usually get so sucked up in the story that I forget how long the story has been going on for.
And while a lot of people said that they "felt like they were sitting in science class" while reading this book, I almost want to slap them because
of course
it sounds like science class. It's science. Mark Watney doesn't know if he's going to live or die, but he does know that someone will eventually find these log entries . . . and they could help anyone else who potentially gets stuck on Mars.
Language: There's a lot, so beware
Humor: Probably the funniest book I've read all year
Also, I recommend the audiobook if you are looking for a good one. (Just beware of the language, and probably don't listen to it around children.)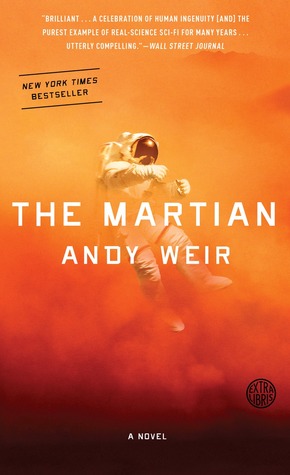 The Martian by Andy Weir
Published: 28 October 2014 by Broadway Books/Crown/Random House (NY)
Format - Length: Paperback - 387 pages
Source: Target
Genre: Science Fiction
Goodreads
-
My Goodreads Rating
Buy it! -
Amazon
,
Kindle
,
Barnes and Noble
Six days ago, astronaut Mark Watney became one of the first people to walk on Mars.

Now, he's sure he'll be the first person to die there.

After a dust storm forces his crew to evacuate the planet while thinking him dead, Mark finds himself stranded on Mars's surface, with no way to signal Earth that he's alive. And even if he could get word out, his supplies would be gone years before a rescue could arrive.

Chances are, though, Mark won't have time to starve to death. The damaged machinery, unforgiving environment or plain-old "human error" are much more likely to kill him first.

Armed with nothing but his ingenuity, his engineering skills--and a gallows sense of humor that proves to be his greatest source of strength--Mark embarks on a dogged quest to stay alive. But will his resourcefulness be enough to overcome the impossible odds against him?
Have you read The Martian yet? Have you seen the movie yet? It is going to be the first thing I do as soon as it comes out!