I am so confused on how I feel about this book.
On one hand, it was weird and different and unique and completely unlike anything I've ever read before.
On the other hand, it was like every other YA contemporary (even though this is a far cry from contemporary) I've read.
Let me explain this to you in the best way that I know how, lists!
What I liked:
It was so gripping. I basically read the entire book in a day, which never happens to me. That definitely says something for the pacing. It was action-action-flashback-action.
Super gripping, super weird. I was really intrigued by this whole mystery aspect of the book. It drew me in from the very beginning and it didn't let me go until the end.
Daniel! I loved Daniel, and I could read a whole contemporary novel about Daniel and his escapades with love and enjoy every second of it because he is hilarious. He keeps the story light when it gets a little bit too dark. He's a great brother. He supports Mara even when she doesn't think she is doing the right thing. He stands by her side when Mara thinks she's going crazy. Best brother award goes to Daniel.
Another light spot in the dark was Noah. Even though he's a bit overprotective for my liking and comes across as a total asshat, he's doesn't force Mara to do things. He doesn't belittle her, and he knows her limits. He's sweet and British--and while 100% not my type--I think he is good for Mara and what she needs.
Hodkins played with reality and it was super cool. It's a super creepy story in a completely normal, everyday setting. It's a bit throwing at first, but I love how she incorporated the elements of "What the fuck?" in with "Casual, Florida prep school." (Honestly, the only thing I know to compare it to would be a horror/thriller movie.)
Is this what it's like to read an unreliable narrator?
What I didn't like:
Is this what it's like to read an unreliable narrator?
Wow, there's like a super cool best friend for Mara. And he's black. And he's bi. And he's a super-genius who can help Mara with all of her schoolwork. And he's Jewish. And he gets thrown to the side for the "sake of the plot". No no no no. I think this last half of this book would have been infinitely better with him in it. Just saying.
Because there were so many contemporary elements to this story, I had to suspend my belief . . . a lot, which is something I don't like doing. I can handle having to suspend disbelief for a few moments. A few are okay, but having to suspend my disbelief for an entire novel is a bit cumbersome.
"Bad boy falls in love with new girl" cliché. Accompanied by "Bad boy isn't as bad as everyone says" cliché. The whole romance felt a little too Bella + Edward for me as well as Juliette + Warner (near the end of Unravel Me + Ignite Me).
I'm not sure what the plot was. I thought I knew, but then it took this weird, complete 180 degree turn about 100 pages from the end.
Powers? What? So confused?
There is basically zero explanation for anything that happens in this book. I need explanations to thrive, people.
The time frame of this book is incredibly unclear. I think it's spring time, but then there was a costume party and then sudden heat and also Mara came into the school "in the middle of a trimester" . . . I don't know what this means. Most schools have semesters, so I can't quite grasp how a "trimester" works in a school.
Mara skips a lot of school. Her parents definitely would have been contacted about it by now . . . by the government.
Mara pretty much needs constant supervision, but Dad is not present and Mom is just like "Mara, you need supervision" but then doesn't enforce it.
What you think happened at the beginning of the story, ended up being what happened, but it was revealed like a plot twist? Was I not supposed to be expecting that?
WHAT THE HECK? THAT'S NOT AN ENDING.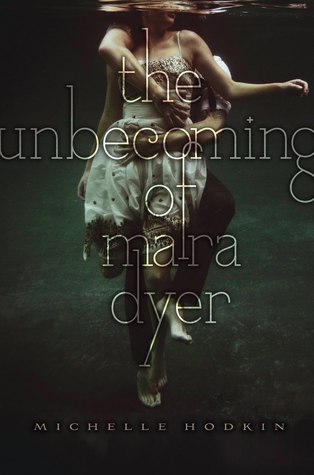 The Unbecoming of Mara Dyer
by Michelle Hodkin
Series: Mara Dyer #1
Published: 27 September 2011 by Simon & Schuster Children's Publishing
Format - Length: Hardcover - 452 pages
Source: Book Outlet
Genre: YA Paranormal
Goodreads
-
My Goodreads Rating
Buy it! - Amazon, Kindle, Barnes and Noble
Mara Dyer doesn't think life can get any stranger than waking up in a hospital with no memory of how she got there.
It can.

She believes there must be more to the accident she can't remember that killed her friends and left her mysteriously unharmed.
There is.

She doesn't believe that after everything she's been through, she can fall in love. She's wrong.
Have you read this book? Tell me what you thought of it down below!