Stacking the shelves is a weekly meme hosted by

Tynga's Reviews

, and it's all about sharing the books that have come into your possession throughout the week, whether it books added to your collection, ebooks, library books, etc. Sunday post

is a weekly meme hosted by Caffeinated Book Reviewer where bloggers can recap their week, showcase books, and share news.
**all goodreads links are available through the picture of the cover**
I broke my book buying ban . . . at Goodwill, so I think that's okay. Also, I only bought two of them, and the man behind me in line bought the third for me. It was sweet.
Goodwill
Let's be honest. I think we all knew that this moment would come. HOWEVER, I did get the hardback of The Angel's Game and a really cool, antiquey Wuthering Heights and a nice, slightly worn paperback of A Thousand Splendid Suns for $10.
(Sidenote: I also bought some books on Thriftbooks recently. One was for school and the other I have wanted for ages, and they were only $11 so I do not even feel bad.)
The most exciting of these is definitely the cool edition of Wuthering Heights that I found. It has deckled edges, a ribbon, and a squishy cover. It's old. It's vintage. It's wonderful.
ALSO, I need your help. I have heard that you do not need to read The Cemetery of Forgotten Books series in order except for the third. Do any of you know more about this or should I definitely read The Shadow of the Wind before The Angel's Game ?
Library
ALL OF THE ELECTRONIC HOLDS CAME IN AT ONCE. I don't even know what to do with them. I have already read and returned Destroy Me (which was amazing by the way) and I have started reading Unravel Me, which overlaps with Destroy Me (and that took me longer to figure out than I care to admit). I haven't touched Shadow and Bone yet. ACOTAR is pretty okay; I just really want Feyre to do something other than wander around Tamlin's manor.
What I Read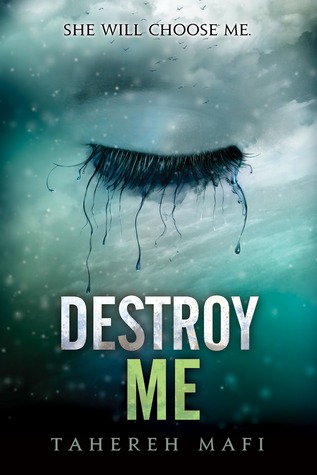 So, I finished my second "book" of the month. I have only finished Maus II and Destroy Me this month because oh my word this has been the busiest month of my life. However, THIS NOVELLA. What even are words? This novella is from Warner's POV within the Shatter Me trilogy, directly after Shatter Me yet coincides with the beginning events of Unravel Me. Highly recommend this if you haven't read it, and I gave it five stars.
When I Wasn't Reading
This was a lot of my time this week. I have almost completed the first season of Agents of S.H.I.E.L.D. (which you should watch if you haven't) and have not regretted a single second of it. (Netflix is not our enemy. It is our friend.) I have also been helping with the VBS at my church as well as setting up for a friend's wedding today.
You Might Have Missed
Upcoming
Since I haven't really read anything this month, I will not be doing a "My Month in Tomes" for June, but rather will do a joint one for June and July.
Unravel Me + Destroy Me - Book Review?
#FridayReads
Possible #Cramathon TBR?
What books have you read or received this week? Have you read any of the books that I have hauled this week? Tell me down in the comments!
Happy Reading!