"Recently in Reading" is a new feature on my blog that I created myself, although I did adapt it from the Goodreads Tag and made it into a feature that I could do semi-regularly on my blog!
This was the last book that I
read
, and
oh heavens
, it was fantastic. I absolutely adore Nina and Matthias with all my heart. Definitely two of my most beloved characters that I've read this year. Also, this is home to two of the best and most well-developed characters that I read this year: Kaz and Inej. I haven't picked up
Crooked Kingdom
yet, but
FRIDAY
.
I picked up Jay's newest release a couple of weeks ago, and I really love it. I'm only a few chapters in, but I love the writing. If you're not a fan of overly descriptive and almost flowery writing, this might not be for you. However, I am a really huge fan of beautiful writing, so I am enjoying this so far.
I have always been really interested in Norse Mythology, and I have a book of the main mythology around it somewhere in the depths of my bookshelf. So, when I saw this pop up on Goodreads when a friend of mine shelved it, I
immediately
went to add it to my TBR because if Gaiman can't kick me to learn about Norse Mythology, then nothing can.
This book is set to be released in February 2017.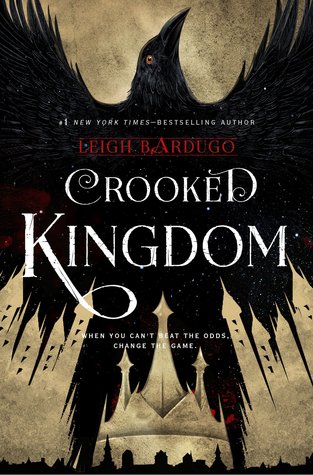 Like I said earlier, I am picking up my copy of this
beautiful
book on Friday when Leigh Bardugo comes to my local(ish) indie bookstore. I'm really excited to meet her, and I am even more excited to pick this book up and flail while I read it. Or cry. Don't tell me what to expect. I don't want to know!
I won a Twitter giveaway for an ARC of
Iron Cast
from the author (which means I also got some pretty cool swag
and
she signed my book) and I'm super stoked for it. Hopefully, after I devour CK, I won't be in too bad of a mourning period and can read and review this by the time it's released.
I'm not quite sure what I will want to buy next. I am really trying to stick to my book buying ban, so since I technically pre-ordered Crooked Kingdom and have already paid for it, I don't want to put that here. Instead, right now I am thinking I might buy The Devil in the White City or On the Other Side. However, that's a while off, so let's not think about it right now!
Now, I would put
Six of Crows
here again just because it was that fantastic. However, I want this portion to be able to include new favorite books, fandoms, authors, quotes, series, etc. This time around it's a new favorite quote, conveniently from
Six of Crows
:
"Many boys will bring you flowers. But someday you'll meet a boy who will learn your favorite flower, your favorite song, your favorite sweet. And even if he is too poor to give you any of them, it won't matter because he will have taken the time to know you as no one else does. Only that boy earns your heart."
Aww. This book is just too perfect, too wonderful for this world.
What did you think of this feature? I'm thinking of doing it every few months or just whenever I feel the urge to do it. I really like it, so tell me what you think of it down in the comments!
Also, let me know what has been your most recent bookish favorite, whether it be a subscription box, a fandom candle, jewelry, a quote, or an event that you went to!