Playlists were such a big part of Amy and Roger and Since You've Been Gone that I was both glad for a break from the playlists while also missing them deeply so I was really happy that the Target edition of the book has "Andie's Summer Playlist" (missing a few songs, but it's the thought that counts, yes?) for me to obsess over*.
* But really, it's all I've listened to since I finished the book. It's an amazing playlist.
Also, if you haven't seen these two beautiful wallpapers from Pop! Goes the Reader, you have to check them out because they are super cute and one of them is already resting comfortably on my desktop background.
I absolutely adored this book. It's by far my favorite Morgan Matson book that I have read*, and it has my new favorite book boyfriend. His name is Clark, and he's the most adorable nerd you'll ever read. I promise.
Aside from the most perfect romance story, there are two main things that I absolutely loved about this story: the family aspect and the friendships. So many important things are brought up with both of these topics while still feeling realistic and incredibly well done. We see Andie going through ups and downs with both her father and her friends which I think is super important and great.
* I've just started Second Chance Summer!
It's also really funny (and also really sad?) and I genuinely appreciate the humor in this. We get so many amazing "dad" jokes in this book. (I put dad in quote marks because this my same sense of very dry, pun-driven humor.) We get all the emotional punches in this book, and even though I could see some of the plot points coming*, I was still hanging on to every word and seeing the journey Andie would take to get that point.
I'm usually not pleased with contemporaries because it's always boy meets girl but they can't be together because reasons or boy meets girl and they immediately fall in love, conflict happens, and then they overcome struggle (but then the book ends before you really see their relationship grow). We get the before and during of the relationship in this book so if you, like me, are constantly displeased by the amount of couple-ness happening then I honestly think you'll love this romance.
There are really important places that the friendship goes in this book, and while I won't tell you where it goes (because spoilers) it takes a really powerful turn. (And honestly I could read a whole other book about it.)
*especially if you've been around the YA contemporary block a few times
But honestly, if you haven't picked this book up, please do because I don't think you'll be disappointed.
(Also, this is a perfectly acceptable first Morgan Matson book, so don't feel super intimidated if this will have been your first Matson.)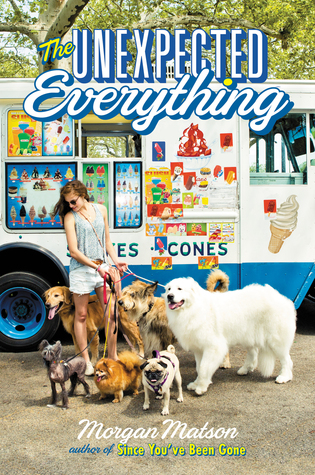 The Unexpected Everything by Morgan Matson
Published: 3 May 2016 by Simon & Schuster Books for Young Readers
Format - Length: Hardcover - 519
Source: Target
Genre: Young Adult Contemporary, Romance
Goodreads
|
My Goodreads Review
Andie had it all planned out.

When you are a politician's daughter who's pretty much raised yourself, you learn everything can be planned or spun, or both. Especially your future.

Important internship? Check.

Amazing friends? Check.

Guys? Check (as long as we're talking no more than three weeks).

But that was before the scandal. Before having to be in the same house with her dad. Before walking an insane number of dogs. That was before Clark and those few months that might change her whole life.

Because here's the thing—if everything's planned out, you can never find the unexpected.

And where's the fun in that?
Have you read this yet? What's your favorite summer contemporary? Tell me down in the comments!