Stacking the shelves is a weekly (in my case, monthly) meme hosted by

Tynga's Reviews

, and it's all about sharing the books that have come into your possession throughout the week, whether it books added to your collection, ebooks, library books, etc. Sunday post

is a weekly meme hosted by Caffeinated Book Reviewer where bloggers can recap their week, showcase books, and share news.
The Stacks
Bought Books
Library E-Books and Audiobooks
CRESS: I got the audiobook for this one because I feel like I should give this series a second chance. So far, this is the best of the three, but I'm not very far into it so things could change.
THE UNDOMESTIC GODDESS: Audiobooks are definitely the way to go if you pick up a Sophie Kinsella in my opinion. This is one of people's favorites of her's and--even though I am not very far into it--it's really good so far!
THE FAVORITE: Ahh, Selection short stories. I've already read this and gave it four stars because I love Marlee and loved hearing her story. Definitely pick this up if you liked her character.
Physical Library Books
elsewhere in the book world!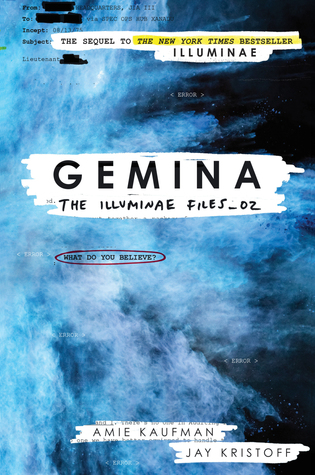 LOOK AT IT. LOOK AT IT. LOOK AT IT.
THE GEMINA COVER IS HERE.
IT MATCHES.
ALSO THERE IS A DESCRIPTION.
(That I won't put here because of spoilers.)
Also the tagline: "What do you believe?" makes me very excited to read this.
October 18th 2016 could not feel further away.
What books have you gotten this year so far? Are you as excited for Gemina as I am? Tell me down in the comments!